---
WE'VE MOVED ! COME TO OUR NEW SITE AT...
Accordion-concertina Repair & Technicians' School www.repairschool.accordionworld.org
(content on this tripod.com site may no longer be up-to-date)
---
Accordion-concertina Repair Technicians School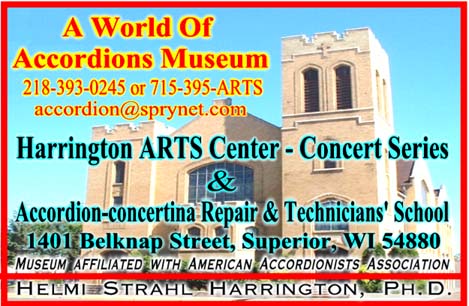 GRAND ReOPENING

A WORLD OF ACCORDIONS MUSEUM
April 24-25, 2004
Click here for details (WORD document) Click here for Response Card (WORD document)
And we will be at Polkafest June 25th through 27th, 2004....
Celebrating Historic Legacies
- Ironworld Discovery Center (click for details - WORD document)
*** October 2002 seminar *** (future ones may be similar) ( click here for more info )
Accordion-concertina Repair and Techniciansí School
This is the only program in the USA that leads to "Certification" in this specialty profession
"Apprentice" programs available
Curriculum: College-level studies at total-proficiency standard
Certification: "Accordion-Family Instruments Repair Technician Specialist"
Schedules: * Write for Student Handbook and further information
* Month-long seminars individually scheduled
Nine separate seminars result in certification
Mon-Thurs: 8:00 AM-4:00 and 7:30-8:30 PM daily hours
Expert instructors: Helmi Harrington, Ph.D.; Gary Harvell, E.E.
Guest instructors; Field Trips
All accordion-family instruments comprehensively taught by era of production, brand of manufacture, performance, theory
Primary topics: tuning, machine (treble and bass) types, specialized studies, bellows repair, reed qualities, acoustics theory, accordion literature, methods (performance) classes, care and maintenance, shipping, amplification, MIDI
ARTS Repair Shop * Actual shop experience
Work with real customers: evaluate, appraise, service
Multiple levels of service: Regular Maintenance, Professional, Museum Quality
Shop Procedures * Useful/necessary tools and machines for your shop
Employability skills vs. Self-employment attributes
Shop-logs: time-keeping vs. per-job charges
Customer relations
Industry Standards: Era-of-production and Quality Standards
Quality of Instrument Standards: Beginner, Intermediate, Professional, Fine and World-Class Instruments
Parts Available * Replacement parts from around the world and many eras of accordion

Production
ARTS Files * Procedure sheets and study guides
Specialty research projects
Lists of Certified Repair Technicians
Community Service * Live-workshop presentations for selected events
Donations are welcome:
Instruments and Parts
---
---